Gondola Status
Die Karwendelbahn ist von 24.01 bis 27.02 wegen Revisionarbeiten geschlossen.

Hiking trails & via ferrata

Panorama­weg
The history of the Karwendelbahn
Over 100 years ago the Karwendel already attracted a lot of visitors. Hikers, climbers and skiiers, they all came in the 30's in droves, mostly in a special train from Munich to Mittenwald, to see and experience the Dammkar. Way back then thousands of mountain sports enthusiasts journeyed to Mittenwald and wrote ski history as the famous "Dammkar worm". An icebar with an amazing panorama view, refreshments and spicy beverages was waiting for them at the top.
The idea to build a cableway suggested itself.
1954 a butcher named Hans Hofmann from Munich founded the Karwendelbahn GmbH. The construction costs were estimated with 2.5 million German Mark, the cableway was supposed to open in 1957. Right in the middle of the construction process, the difficult terrain made the costs explode. The state held back the loan guarantee and they had to stop building in spring 1958, the project almost failed. But the mayor at the time, Josef Brandner and the treasurer kept fighting for the construction. Finally a few banks, construction company's, committed citizens and the municipality Mittenwald shared the final costs of 5.2 million dollars.
On the 7th of June 1967 the first gondola makes it's way up the mountain.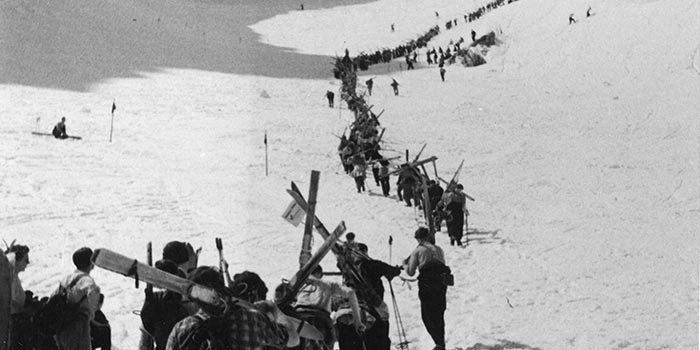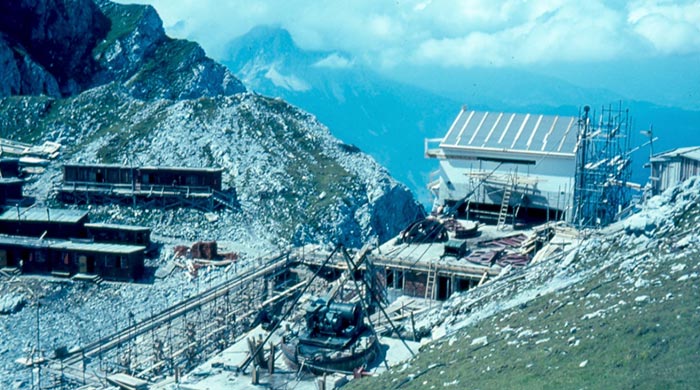 Little by little more hiking and walking paths are cleared. 1973 the first climbers go up the Mittenwalder Höhenweg. Skiing at Karwendel is encouraged as well. A tunnel for people to cross the dangerous crossover from the mountain station in the Dammkar was built in the mid-70s. Nowadays the 7 kilometer long descent is the longest skiing route in Germany.
2008 follows another milestone: Germanys highest nature information center in form of a giant telescope is opened. Inside of the giant telescope you get a chance to explore always changing exhibitions, which take you into the high mountains region and other sensitive habitats.